Real Life Bean Soup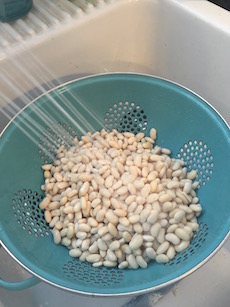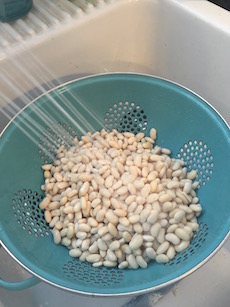 This is a hearty and flavorful soup for the whole family.  Even your meat and potatoes man will be satisfied with this!
Beautiful Sisters' notes about beans…
This kind of soup is best with dried beans.  They require longer cooking than canned beans, and during that cooking time they come to a fuller flavor.
Simply take a bag or dried beans and cover with water about two inches above the beans.  Let soak for anywhere from 8-24 hours.  Then drain and rinse them before using in the soup.
INGREDIENTS:
1 pound dried beans (either Great Northern or Cannolini)
Olive oil
1 onion, yellow or white
2 medium carrots
2 ribs of celery
2-3 slices of bacon, thick cut preferably (optional)
Herbs – ½ tsp. each thyme, rosemary, parsley, and 1 bay leaf
Pinch of chili flakes, optional
A rind of Parmesan cheese (optional)
Water, chicken stock (or vegetable stock)
NOTE: To make this soup vegetarian, omit the bacon and definitely use vegetable stock (not water) and use the parmesan rind.
1- Soak 1# of beans, soaked in cold water for 8 hours or overnight
2- Begin with a nice heavy soup pot on medium high heat.
3- Cut your bacon into small dice or matchstick shapes.
4- Pour a little splash of olive oil in the pan.  Add the bacon.
5- While the bacon cooks, cut your onion into a small dice.
6- Once the bacon has rendered a bit and browned, add the onion.  Stir with a wooden spoon.
7- Peel and dice the carrot.  Add it to the pot.
8- Dice the celery and add it.
9- Add your dried herbs dried and stir to blend. Add some chili flakes if you are using and the bay leaf.  Stir and cook a bit more until the vegetables have begun to sweat.
10- Add the drained beans to the pot with the vegetables and herbs.  Cover with water or stock by about 2 inches.  Raise the heat on the pot to high.
11- Bring the beans to a boil and add the Parmesan rind if using.
12- Once they've come to a boil, lower the heat to a simmer.  Skim away any foam that rises from the beans.
13- Keep the heat at a steady simmer until the beans are tender, 1-2 hours depending on your beans.
14- Serve it with a drizzle of olive oil, maybe some grated cheese, bread, or nothing at all.