Berry Crisp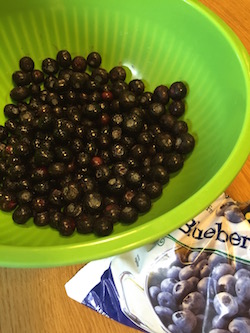 All right y'all.  This is some seriously good and dangerous stuff.  I mean it, it is absolutely delicious- hot, cold, room temp. whatever.  It is SO good!  And it uses the same crisp topping as our APPLE CRISP.
If your crisp topping is in the freezer, great! If not, you can make it now (refer to our apple crisp recipe for this crisp topping).
Begin to prep your blueberries:
INGREDIENTS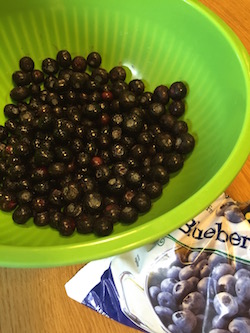 8 C. berries, fresh or frozen (frozen berries worked great with this)
1/4 c. flour
1/2 c. sugar
squeeze of fresh lemon juice
zest of one lemon
1/4 tsp. cinnamon
Combine the ingredients above with the berries and let rest for 20 minutes then stir around to distribute the juices.
Top with the crisp topping.
Bake at 375 for about 45 min.-1 hour.
Look for the crisp to be "settled" or sunk down a bit and for bubbles all around the sides of the pan. Don't be afraid to brown the topping; that equals flavor.
As hard as it is, let the crisp sit for about 15 mins. then you can eat it warm with a big scoop of ice cream!  Trust us, if you eat it without ice cream, you will NOT be disappointed. And just like the apple crisp, this is flat-out AMAZING out of the fridge cold.  Enjoy!
Beautiful Sisters' notes:
You could make this recipe with blackberries exactly the same way. You could also use strawberries as an addition but they'd need to be left if quite large pieces.